Fundamental Breakdown
Fundamental
, the new
Pet Shop Boys
album, has entered the UK album chart at
#5
. After listening for a week now, here's a general assessment: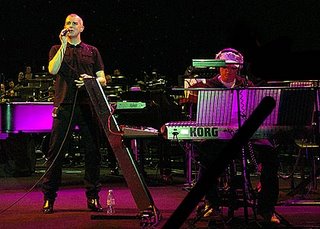 SHOULD HAVE BEEN THE OPENING TRACK AND NOT RELEGATED TO THE REMIX DISC:
"Fugitive"
OPENING TRACK THAT AIN'T HALF BAD AFTER ABOUT SIX PLAYS:
"Psychological"
BEST PSB BALLAD EVER:
"I Made My Excuses And Left"
SO OVER IT BY THE TIME THE ALBUM CAME OUT BUT NOW SOUNDS GOOD AGAIN COMPARED TO THE Z-GRADE RADIO RIP:
"I'm With Stupid"
MOST EMOTIONAL PSB SONG NOT WRITTEN BY PSBs EVER:
"Numb"
WHAT SHOULD BE THE SECOND SINGLE:
"Integral"
SECOND SINGLE:
"Minimal"
PROBABLY THE MOST SUBTLY GREAT POLITICAL SONG ON HERE THAT ALSO DOUBLES AS AN AWESOME DRIVING TUNE:
"Twentieth Century"
NOT BAD FOR BALLADS:
"Luna Park," "Casanova In Hell"
PRETTY COOL FOR FILLER:
"The Sodom And Gomorrah Show"
JOINS THE "DREAMING OF THE QUEEN"/COULD-DO-WITHOUT-IT CLUB (AND WHAT'S WITH THE MADGE-ESQUE TITLE?):
"Indefinite Leave To Remain"
WOULD HAVE BEEN GREAT IF NOT FOR THE SO-SIX-YEARS-AGO TRANCEY EFFECTS:
"In Private"
THE ONE YOU ALWAYS FORGET IS EVEN ON THERE BECAUSE IT'S A ONE-MINUTE INSTRUMENTAL TRACK:
"God Willing"
Overall, it's not better than
Very
, but after time will be seen as being as good as it.
Listen to the special BBC Radio 2 concert the Boys did on May 8 here.
Labels: album review, Pet Shop Boys