US Chart Roundup: Katy Perry Lands Ninth #1 Single With "Dark Horse"
You know, I've pretty much avoided the existence of
Juicy J
as a chart entity somehow until this week, and so you can then picture me spitting coffee out all over my laptop screen when I realized he's actually
Oscar winner
Juicy J, of
Three 6 Mafia
fame. It was kind of like discovering that low rent hooker you used to throw eggs at while you bicycled past her was actually your elementary school gym teacher in drag.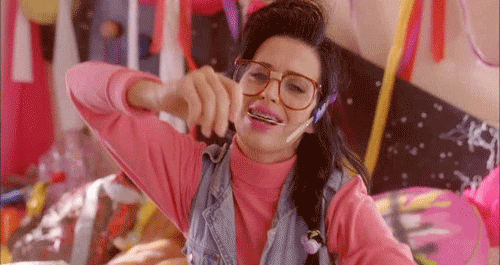 Anyway,
Katy Perry
and Juicy J have taken "Dark Horse" to the top of the Billboard Hot 100, thus ending
Ke$ha
and that other guy's three-week reign with
"Timber."
This gives Katy her ninth
#1
single, Juicy J his first, Perry a second chart topper off
Prism
(after Grammy loser "Roar") and producers
Dr. Luke
and
Cirkut
back-to-back #1s. (
Max Martin
co-produced with them.)
Katy's first chart-topping single came with 2008's "I Kissed A Girl," and so she now has the classy honor of having had #1s on all three of her major label albums (
One Of The Boys
,
Teenage Dream
,
Prism
).
Meanwhile, in "things you never thought you'd live to see again" territory,
Jason Derulo
lands his first Top 10 hit since "Ridin' Solo" (back in 2010) with "Talk Dirty" (at
#6
). What does one even say about that? They simply move on...
...to
John Newman
's "Love Me Again," which inches up to
#32
. Meanwhile,
Shakira
and
Rihanna
's
"Can't Remember To Forget You"
is now coming off like an ironic title, given that the song plunges from #28 to
#61
in only its second week on the Hot 100.
On a final note,
Calvin Harris
and
Ayah Marar
's
"Thinking About You"
moves up six spots to
#87
. And there, friends, you have it...
The U.S. Top 10:
1. "Dark Horse" -
Katy Perry feat. Juicy J
*1 week*
2. "Timber" -
Pitbull feat. Ke$ha
3. "Counting Stars" -
OneRepublic
4. "Say Something" -
A Great Big World & Christina Aguilera
5. "The Monster" -
Eminem feat. Rihanna
6. "Talk Dirty" -
Jason Derulo feat. 2 Chainz
7. "Let Her Go" -
Passenger
8. "Team" -
Lorde
9. "Royals" -
Lorde
10. "Pompeii" -
Bastille
Labels: Ayah Marar, Calvin Harris, Jason DeRulo, John Newman, Juicy J, Katy Perry, Rihanna, Shakira, U.S. chart