The 10 Best Pop Singles Of 2014
Good god, there's only a day and a half left in this year, so it's high time
Moogaboo
and I got our butts and gear and presented you with our 10 Best Pop Singles Of 2014 list. And don't even get me started on the fact that this is
the tenth such list
I've typed up here on
Chart Rigger
! I can remember so clearly sitting on my couch in Los Angeles back on rainy New Year's Eve in 2005 and doing up the
very first roundup
, the songs on which I ranked by their amount of plays on my iPod Mini.
Back then I wrote the following: "2005 was certainly a turning point for pop, namely for two reasons: 1) the inclusion of digital downloads in the tallying of U.S. and UK pop charts, and 2) the creation of Chart Rigger, hookers!"
So classy. By the following year, my longtime pal Moogaboo had joined the mix, and so here we are all these years later still doing this trash.
Anyway, let's get to it. Embedded just below is a Spotify playlist of our 10 picks from this year, in ascending order. And below that is our writeup on each single. Have at it, pop kyddos!
10. Sky Ferreira, "I Blame Myself"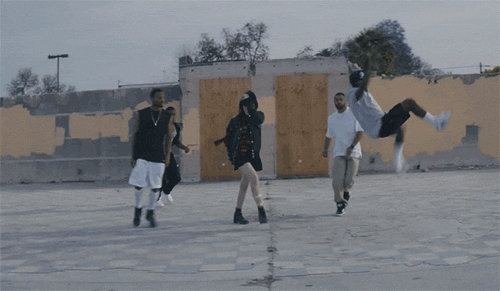 D'luv says:
"Sky Ferreira's
Night Time, My Time
album is one of the best things to happen to pop in the past 10 years, and if her next one doesn't sound at all like 'I Blame Myself' or any of the other great tracks on her debut, I'm going to cry. So, basically, I'm heading for heartbreak, right?"
Moogaboo says:
"Oh babe, we're both riding that train of hope headlong into a ravine. In the meantime, let's enjoy the gentle synths and brutal sarcasm of Sky's most poignant moment, shall we?"
9. Hercules & Love Affair, "My Offence"
D'luv says:
"Moogaboo was the one who introduced me to 'My Offence', because he clearly knows my predispositions toward early '90s dance music and cunt."
Moogaboo says:
"When I first heard this, I thought,
Does Chart Rigger need a theme song?
By the way,
Feast Of The Broken Heart
is such a good album, and compelling evidence that music is usually better when it's as inclusive as possible."
8. Gorgon City feat. MNEK, "Ready For Your Love"
D'luv says:
"2014 was definitely the year of house music's return, and 'Ready For Your Love' was was one of the first singles to knock it out of the park as far as I'm concerned."
Moogaboo says:
"MNEK makes house music that evokes the spirit of the '90s without any help from derivative samples or familiar riffs. Here's hoping his latest collaborateur,
Le Vampyre
, left some marrow in him."
Charts:
UK
#4
7. Tove Lo, "Habits (Stay High)"
Moogaboo says:
"I love when a downbeat song can commit to keeping a catchy melody, and this one pays off over and over again. Extra love for an on-point, 180-degree remix."
D'luv says:
"Tove Lo has the whole amazing chorus thing on lock, doesn't she? I'm also a sucker for any song about emotionally tail-spinning into Hell after a breakup."
Charts:
US
#3
, AUS
#3
, UK
#6
6. Katy B, "Crying For No Reason"
D'luv says:
"This was pretty much the first great single released this year, no? Katy B's
Little Red
album was woefully overlooked, the poor doll."
Moogaboo says:
"This really is a great jam — all drama and heartache and pop perfection. I somehow hadn't heard it since February, and yet, Katy Perry's last batch of tuneless wonders continue to clog the airwaves day and night. Not that I want Katy Perry to go away forever and be replaced by Katy B. or anything. By the by, just out of curiosity, how much do you think a record label would have to pay to make that happen?"
Charts:
UK
#5
5. Kiesza, "Hideaway"
D'luv says:
"Those living on the East Coast know how brutal the Polar Vortex was last winter. 'Hideaway' was a shiny throwback house gem that made the cold months way more bearable when its music video went viral in February."
Moogaboo says:
"Like most people, I saw that video first — its cheap, novelty sheen kind of turned me off. It wasn't until I heard 'Hideaway' blasting through speakers at 3 a.m. that I truly got it, and now I can totally forgive Kiesza those jeans."
Charts:
UK
#1
, ITALY
#1
, GER
#5
, CAN
#5
, US
#51
4. Route 94 feat. Jess Glynne, "My Love"
D'luv says:
"There's something so hypnotic and sexy about 'My Love', which I believe are the exact feelings good house music should stir up in a listener. I've personally had this one on heavy rotation since January and still haven't grown tired of it."
Moogaboo says:
"So this song, with its snappy handbag beat and hypnotic vocal sample, was my JAM all summer, yet I only just now realized it was Route 94 and not Duke Dumont. OOPS. That's what I get for trying to read D'luv tracklistings while driving."
Charts:
UK
#1
, GER
#6
3. Nico & Vinz, "Am I Wrong"
D'luv says:
"I absolutely love this jam. I first heard it while on a two-week vacation in Italy in May, and it will forever remind of that trip...and hot Italians."
Moogaboo says:
"Summery and wistful and sounds even better now that my world is covered in frost. I might need to hear it in Italy, though, so let's see about making that happen."
Charts:
UK
#1
, AUS
#2
, GER
#3
, US
#4
2. Nick Jonas "Jealous"
D'luv says:
"I said this in a writeup on 'Jealous' elsewhere, but it bears repeating: Everybody wanted to fuck Nick Jonas this year. That said, if only he had gone the extra step and done full frontal, he'd be at #1 on this list. All joking aside, 'Jealous' is just a really great pop song."
Moogaboo says:
"Nick's cakes have worked wonders in promoting himself/this single, and I can't say that I blame him for going there. Have you seen what the other Jonases are up to? Not much. Besides that, it's always refreshing to see a star find new and innovative ways of scoring a hit without having to roll over for Max Martin."
Charts:
US
#8
, CAN
#11
1. Clean Bandit feat. Jess Glynne, "Rather Be"
D'luv says:
"What an odd little group Clean Bandit are, and what an unlikely global hit 'Rather Be' is. Still, here we are, nearly 12 months after its release, and this song led the way for all of the other house-pop crossover acts in 2014 — and earned a Grammy nomination, to boot. Again, I was torn between this and 'Jealous' for #1, but in the absence of Nick Jonas' dick..."
Moogaboo says:
"Upbeat techno-pop that manages to be sweet but not saccharine, and my faith in dance music is restored. Because let's face it, the chances of this going Top 10 in America were slim, but the odds of us ever actually seeing Nick Jonas's peen are even slimmer."
Charts:
UK
#1
, GER
#1
, SWE
#1
, ITALY
#2
, FRA
#2
, AUS
#2
, US
#10
ALSO SEE:
*
The 10 Worst Singles Of 2014
*
The Best Pop Singles Of 2013
*
The Best Pop Singles Of 2012
*
The Best Pop Singles Of 2011
*
The Best Pop Singles Of 2010
*
The Best Pop Singles Of 2009
*
The Best Pop Singles Of 2008
*
The Best Pop Singles Of 2007
*
The Best Pop Singles Of 2006
*
The Best Pop Singles Of 2005
*
The Top 40 Pop Singles Of The '00s
Labels: 2014, Clean Bandit, Gorgon City, Hercules & Love Affair, Jess Glynne, Katy B, Kiesza, list, MNEK, Nick Jonas, Nico & Vinz, Route 94, Sky Ferreira, Tove Lo