The 10 Worst Singles Of 2014: You Could Have Been Getting Down To This Sick Beat
Moogaboo
and I had a hell of a time narrowing down our annual worst of the worst list to just 10 songs. Still, we managed, and below you'll find those two handfuls of complete musical trash!
Enjoy our blistering commentary, and, as usual, if you disagree, feel free to let us know...then go slam your dick in an oven door.
Ciao!
10.
Pitbull, "Fireball"
Moogaboo:
"Pitbull's career is an illustration in making very little go a very long way and, as time goes on, he somehow continues to give less and less. Bravo, Pitbull."
D'luv:
"He's the human equivalent of a vacant strip mall; the kind that, back in the day, you used to pull behind on the way home from the bar so you could vomit your guts into the parking lot."
PREVIOUS TRIUMPH:
Pitbull, often mistaken for a penis with feet, sailed to #5 on our 2013 Worst list with "Feel This Moment."
9.
Gwen Stefani, "Spark The Fire"
Moogaboo:
"Gwen's clueless co-opting of Miley's shameless co-opting of Tumblr-esque art memes is embarrassing, but 'Spark the Fire' lacks anything musically noteworthy so I guess she had to do something."
D'luv:
"I, like a bulk of the world, was so on board for Gwen's big 2014 solo-artist comeback. But the whole affair — from her stint on
The Voice
to 'Baby Don't Lie' to 'Spark The Fire' — seriously had to be the biggest anticlimax since..."
8.
Fergie feat. YG, "L.A. Love (La La)"
Moogbaoo:
"It's heartening to know that, no matter how long she's been away from the pop scene, Fergie remains devoted to being completely and utterly cliche."
D'luv:
"I bet her 1-year-old took a single listen to this song, reached out of the crib and punched her in the snatch."
PREVIOUS TRIUMPH:
A beloved veteran of our Worst lists, Fergie topped the 2006 roundup all on her own with "London Bridge," then made appearances with the Black Eyed Peas at #5 in 2009 with "Boom Boom Pow" and #3 in 2010 with "The Time (Dirty Bit
)".
7.
Taylor Swift, "Shake It Off"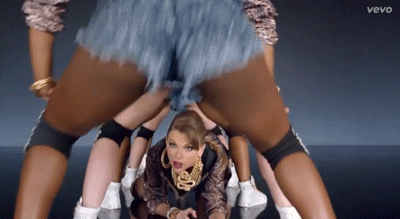 Moogaboo:
"She's continuing a long tradition of rich pop stars becoming obsessed with their haters, because nothing improves music like self-pity, bitterness and paranoia. Her 'My Sharona' beat is interesting, but I still say Echosmith's 'Cool Kids' was the better Taylor Swift song of this year (even though she had nothing to do with it)."
D'luv:
"Taylor Swift's target audience: C#@*s."
6.
Robin Thicke, "Still Madly Crazy"
D'luv:
"I forgot the whole
Paula
project existed until this song came up for consideration on our Worst list...and then I promptly force-forgot again."
Moogaboo:
"Looking back now, it's obvious that the death of Robin Thicke's career was no accident. Compounding a treacly plea for love with a video starring a bunch of cutesy kids says to me, 'I hate music, I hate my career, I hate my wife and I want this all to end'."
PREVIOUS TRIUMPH:
This is the second year in a row that Robin Thicke has graced our Worst list. Last year he date-raped the #4 spot with "Blurred Lines."
5.
Jessie J, Ariana Grande & Nicki Minaj, "Bang Bang"
D'luv:
"It's mind-boggling that 'Bang Bang' is the best this hydra of hoes and Max Martin could collectively puke onto radio."
Moogaboo:
"I ought to love this but Ariana Grande's baby face and voice annoy the living hell out of me. Can we just ponder for a moment how annoying one actually has to be to overpower the established annoyingness of Jessie J?"
PREVIOUS TRIUMPH:
Everyone's fave songbird Jessie is a repeat performer when it comes to our Worst list! She shined at #4 in 2011 with "Price Tag."
4.
Jennifer Lopez, "I Luh Ya Papi"
Moogaboo:
"Jen looks smashing but all the male bunz in the world couldn't save this dreck from tanking. Also, I love that the video goes on for a minute and a half before we get any hot bunz, because audiences give a shit about J.Lo's sycophantic gal pals and dead-inside art director."
D'luv:
"You're so right. And, gosh — remember when JLo used to make songs with a message, like...like...oh, you know...that
one
...hmmm..."
PREVIOUS TRIUMPH:
Good ol' JHole slid into the #9 spot on our 2011 Worst list with "On The Floor."
3.
Nicki Minaj, "Anaconda"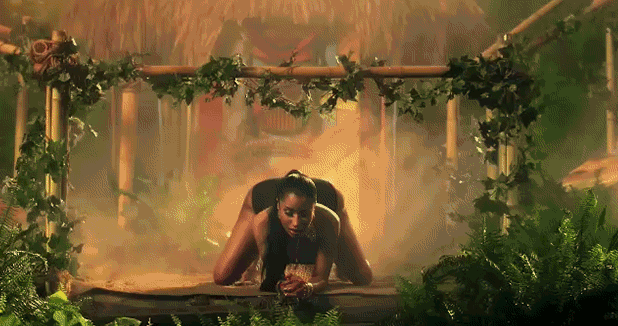 D'luv:
"This seems like the type of thing that will make white girls at weddings hoist up from a beleaguered chair and dance for at least the next 17 years, right?"
Moogaboo:
"I like Nicki and think she's better than this, but 'Pills n' Potions' came out of the gate dead so I can see why she'd attach herself to a '90s classic that never really went away. Sir Mixx-a-Lott must be booking shows left and right now, so there's a positive."
2.
DJ Snake & Lil Jon, "Turn Down For What"
Moogaboo:
"Three
-
and-a-half minutes of I CAN'T."
D'luv:
"I'm just going to put this out there and then walk away: 'Turn Down For What' has a Grammy nomination."
1.
RaeLynn, "God Made Girls"
Moogaboo:
"Retrograde kitsch that probably went straight to number one on the Family Research Council's club play chart. Extra marketing points for her
Frozen
braid."
D'luv:
"Where's Gloria Steinem when you need her to kick this dumb THOT in the pussy?"
ALSO SEE:
*
The Worst Singles Of 2013
*
The Worst Singles Of 2012
*
The Worst Singles Of 2011
*
The Worst Singles Of 2010
*
The Worst Singles Of 2009
*
The Worst Singles Of 2008
*
The Worst Singles Of 2007
*
The Worst Singles Of 2006
Labels: 2014, Ariana Grande, DJ Snake, Fergie, Gwen Stefani, Jennifer Lopez, Jessie J, Lil Jon, Nicki Minaj, Pitbull, RaeLynn, Robin Thicke, Taylor Swift